Dream Cast - Chrestomanci series
If you haven't read Diana Wynne Jones' Chrestomanci books, it's a children's fantasy series set in a series of alternate (but related) worlds, it's amazing, and you should go straight to the library and check out Charmed Life right now. I set out to do a fan cast for the whole series, which turned out to be ridiculously difficult and time-consuming and I got tired of trying to think of child actors by the time I got to Conrad's Fate. So I've just done the first two books.
(Fair warning for spoilers below the cut)
Note: Character descriptions were mostly taken from the very useful Diana Wynne Jones characters wiki page.
From Charmed Life
Christopher Chant (Chrestomanci) - Benedict Cumberbatch
"Tall," "handsome," smooth black hair, dark eyes, typically seen wearing a vague expression and an awe-inspiring dressing gown.
(Note: Being the most important, of course Christopher was also the hardest to get right. I wracked my brains for hours trying to figure out who I was picturing in my head when I imagined him, and finally realized—it was Bing Crosby. Dammit! While he would obviously be perfect—American accent and light hair and eyes be damned—he won't do for a fan cast because he's been dead for 34 years. Young Rupert Everett is exactly how I picture him looking, but at 54 he's a bit too old now (I think Christopher is meant to be about 35 in Charmed Life). I considered JJ Feild, who has the mannerisms for the part but not the look I was picturing (although I think he'd make a fantastic grown-up Cat Chant). For a while I even tried to talk myself into Dan Stevens. What I'm trying to say is, I tried to look past my current Cumberobsession and be objective about this, but in the end it had to be Benedict.)
Michael Saunders - Matt Smith
"His face is thin and square-cheeked. He is one of those people who is not good at staying still. His coat has a way of billowing out behind him when he moves, even when there's no wind. He has big knobby hands, and long arms that always stick out too far from the sleeves. When he wears formal dress, his legs generally stick out too far as well."
Millie - Parminder Nagra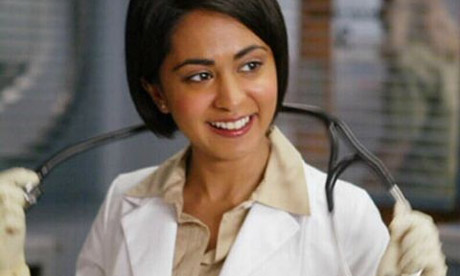 "Although she dresses in a manner appropriate to her station, she is remarkably ordinary in appearance and manner, and has occasionally been mistaken for a servant of some kind by unobservant strangers." (Like this would ever happen to Parminder Nagra, except for really gross reasons! This was literally the plainest picture of her I could find. But I'm pretty convinced Millie isn't as plain as Cat describes her to be. After her experiences as the Goddess, I wouldn't be surprised if she uses a bit of magic to fly under people's radar.)
Cat (Eric) Chant - Asa Butterfield
Fair-haired and blue-eyed.
Gwendolyn Chant/Janet Chant - Chloë Grace Moretz
Golden hair and blue eyes. (I'm not good with child actors, so I just used the ones from Hugo, but I do actually think they would be good for the parts)
Roger & Julia - Ugh, I know they're important, but I honestly couldn't be bothered to cast them. Just find some plain-looking unknowns, do I have to do everything around here?
❧❧❧❧❧
From The Lives of Christopher Chant
Young Christopher Chant - Frank Dillane
Looks like he could grow up to be Benedict as much as anyone could. Talk about impossible casting.
Mother (Miranda Chant) - Lara Pulver
A Beauty: "She had huge lustrous eyes, a perfect figure, and piles of glossy brown curls."
Father (Cosimo Chant) - Rupert Everett
"He has black hair, and whiskers." (If I can't have young Rupert for Christopher, I'll take current Rupert for Cosimo.)
Uncle Ralph - Jude Law
Miranda's brother; he has fox-coloured hair and mustaches, wears tweeds, and smokes a cigar. He has a very engaging smile and a friendly laugh, but also has a terrible temper when crossed.
(For whatever reason, Jude Law is my go-to for Affably Evil. Christoph Waltz is also a good choice.)
Tacroy - Richard Ayoade
"He appears to be a young man with brown skin, hazel eyes, and tightly-curled pale brown hair, wearing a green worsted suit." (I LOVE YOU TACROY, WHY ISN'T THERE A WHOLE BOOK ABOUT YOU TACROY)
Effie Bell (The Last Governess) - Shirley Henderson
"She keeps all signs of personality well hidden beneath a drab, pale exterior; she shows her true self to Uncle Ralph, her real employer, and sometimes to Christopher, but never to his mother."
The Goddess - Rubina Ali
"The Living Asheth is a bit younger than Christopher, and has a round, ordinary face and long, mouse-coloured hair."
Dr. Pawson - Richard Griffiths
"He is hugely fat, and has purplish skin and brownish, crooked teeth." (No offense, Richard Griffiths! Blame it on Vernon Dursley, the purplest character I could think of.)
Gabriel de Witt - Christopher Lee
"He is tall - about six-foot-six, according to Christopher - and skinny, with a hooked beak of a nose. He has blue eyes, and when he was younger he had fair hair."
Flavian Temple - Tom Hiddleston
"He is a pale plump man with a long face. He is kind and earnest, and tries hard to be as hushed and dignified as his colleagues, though it doesn't really suit him. As per his workplace's dress standard, he dresses soberly in a grey suit with a starched collar; the collar is too tight for him."
Miss Rosalie - ???
"She is small - about five feet tall - and plump and bossy. As per her workplace's dress standard, she dresses soberly in a grey dress with neat black lace mittens."
Rosalie is the one fairly important character that I never got a good mental image of. Whoever she is, she must look good in cricket whites!
(Side note: that picture is too amazing, it has to get its own post.)
The Dright - Samuel L. Jackson
"He is tall and bulky, and has white hair and a white beard. He wears lion skins and many ornaments."